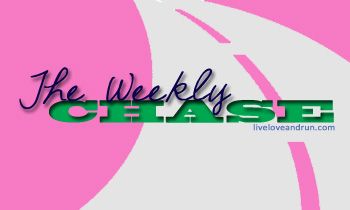 I have just found a GREAT weekly goal setting idea called The Weekly Chase from the blog live, love & run.
It is really simple, every Monday bloggers post a weekly goal.
I have an end goal.....
to loose weight.
I do not have just 'a few pounds to shift'... more like a few stone to shift!
I like the idea of setting a weekly goal and then reviewing it on Sunday night.
SO welcome to my very first post of The Weekly Chase.
I think I need to start off with something that is achievable
My goal for this week is:
To keep a food diary (photos) of everything I put in my mouth.
I know how good it is to record a food diary. I am the type of person who 'thinks' I have eaten really healthy BUT seem to 'forget' the odd biscuit or chocolate bar. By keeping a food diary I will become much more aware of what I am eating and will be able to see what triggers bad eating and if there are any patterns.
I know this is just one small goal but the whole idea behind this is that these small goals will help get us to the end of our journey.
I am starting this journey for Baby E